Lindau Meeting in Economic Sciences 2020
---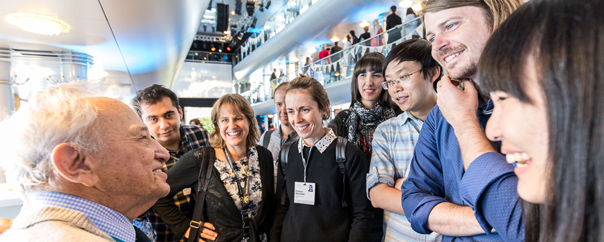 The Meeting of the Laureates of the Sveriges Riksbank Prize in Economic Sciences in Memory of Alfred Nobel in Lindau will be held from 25-29 August 2020. The audience for lectures, panel discussions, and special discussion sessions will be up to 500 economists: mostly advanced graduate students and post docs, but also some young assistant professors.
Participants will be recruited worldwide among the most promising young scholars in economic sciences.
Upcoming Lindau Meeting in Economic Sciences
---
2020
7th Meeting of the Laureates of the Sveriges Riksbank Prize in Economic Sciences in Memory of Alfred Nobel in Lindau (25-29 August 2020)
Who May Participate?
---
Applicants should be under 35 years of age, belong to the top of their class/cohort, and have strong recommendations from their academic advisor.
Advanced graduate students should have excellent academic records, written one or several discussion papers on original research, and at least some experience in presenting their research at workshops and conferences.
Post-docs or early tenure-track scientists should be less than 5 years away from their Ph.D., have published outstanding papers in widely recognized academic journals, and have presented their research at international conferences.
Candidates should study and/or work in Austria; Austrian citizenship is not required.
Application
---
Applications must be in English.
Application is possible from 27 September to 14 October 2019.
The following documents have to be submitted using the online form:
Personal statement of the candidate including arguments for the wish to participate
CV including list of publications
Letter of recommendation by a person who knows the candidate well, e.g. supervisor of bachelor/master/PhD thesis
Please consider the following aspects for the letter of recommendation:
Length: about one DIN A4 page
A description of the candidate's achievements that could also cover details not found in the candidate's CV
In case of recommending several candidates: Please write an individual letter for each candidate and not a standard letter that is very similar for all the candidates
Submission: Upload via Online Form
---
Fill in the Online Form and upload the documents as a total of two PDF files. The files are to be given the following names:
Application_Surname.pdf (personal statement, CV, publication list)
Recommendation_Surname.pdf (letter of recommendation)
Protected files will not be accepted. The individual files may not exceed 3 MB.
Processing
---
Upon receipt of your application, we will check that it is complete and meets the formal criteria and it will then be entered into the database of the Department of Fellowships and Awards with a project number.
Once the project has been checked for completeness, the applicant will receive confirmation by email.
Conditions
---
Based on an agreement between the Federal Ministry of Education, Science and Research and the administration in Lindau, travel costs will be reimbursed. After the event, original receipts of travel expenses are to be submitted. Participants will receive more information after confirmation of participation.